Novo INTERACTIVE at a glance:
Online platforms

Virtual slot machines

Sports betting

Gambling license Germany
PXL Vision for NOVO INTERACTIVE
The company NOVO INTERACTIVE combines all online gambling of the LÖWEN Group under one roof. In addition to the ADMIRALBET brand for online sports betting, NOVO INTERACTIVE also operates www.novoline.de, a platform for virtual slot machines. For both offerings the company holds a German license. For both forms of gambling, the company is among the first to receive such a license. With PXL Vision, the company ensures simple but secure identification and thus implements player and protection of minors effectively and consistently.
Legal framework: Requirements of the State Gambling Treaty
Gambling in Germany is subject to strict regulations. The framework conditions are largely laid down in the State Treaty on Gaming, which first came into force in 2008 and was renewed in 2021.
Companies in the industry such as NOVO INTERACTIVE, whose services are available online, must implement correspondingly strict requirements. For example, they must ensure that all users of virtual slot games are over 18 years of age and have a valid bank account. In addition, providers of virtual slot games must check whether the players are really the people they claim to be.
The current version of the State Treaty on Gaming came into force on July 1, 2021. Since then, providers of games of chance have been obliged to check whether a person is barred from gambling before the game begins.
For this purpose, there is the so-called OASIS blocking system, in which people with risky gambling behaviour are noted. Blocked players are not allowed to access games of chance – the entry applies across all gaming formats across gaming genres for numerous gaming formats in the stationary sector as well as online.
In addition, providers must carry out a limit check: Players are only allowed to deposit to play or make bet up to a maximum of 1,000 euros per month across all providers. The deposits must be checked via the so-called LUGAS system. There it is also checked whether the limit has already been reached or not.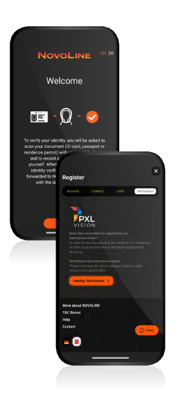 The solution
NOVO INTERACTIVE must therefore ensure that the players are over 18 years of age and not registered in the OASIS player blocking file. For this purpose, it is necessary to identify the players and verify their identity. To make this uncomplicated, fast and efficiently, the company relies on solutions from the Swiss market leader PXL Vision.
The process works as follows for the players: Using smartphone, they photograph the front of their ID document. The AI then first checks whether it is a valid ID document and scans machine-readable data such as the date of birth. This data is then compared with the information entered previously in the player account manually. If these differ, the identification fails and the process is aborted. If, on the other hand, the comparison is successful, the player is asked to record a short selfie video. The AI then checks whether the photo on the ID document matches the face in the selfie video and whether it is truly a real and living person.
Reasons for PXL vision
Simple & fast

Age & identity verification

Integration with Platform/App

National & international ID documents
Advantages of PXL vision over other providers
PXL Vision has managed to reduce the steps for the identification process to a minimum. As a result, verification can be completed in 30 seconds. In this way, PXL Vision ensures that the process is as simple and straightforward as possible – which has a positive impact on conversions. In addition, the AI ensures that the algorithm is constantly optimized and, for example, also recognizes shots with poor lighting conditions. Another advantage of PXL Vision: the company offers a web-based white label solution for its customers. In the case of NOVO INTERACTIVE, this means that players are not redirected to another site or must download an additional app to scan their ID document and verify their identity via it. Thus, NOVO INTERACTIVE was able to integrate PXL Vision's identity verification into the platform easily. This helps to avoid onboarding dropouts because players sometimes do not trust a separate website. As a result, NOVO INTERACTIVE benefits from higher conversions and fewer drop-outs.