PXL Vision for OOMNIUM
Considering the legal framework to which OOMNIUM is subject as a financial intermediary, KYC-compliant identity verification of investors is crucial. PXL Vision supports the crowdinvesting platform with user-friendly identity verification as part of the required KYC checks.
About OOMNIUM
OOMNIUM, as a subsidiary of wemakeit, the largest crowdfunding platform in Switzerland, specializes in investing and financing startups and SMEs with social added value and sustainable business models. A key feature of OOMNIUM is the issuance of digital shares in the form of registered securities on the blockchain, which revolutionizes the investment process.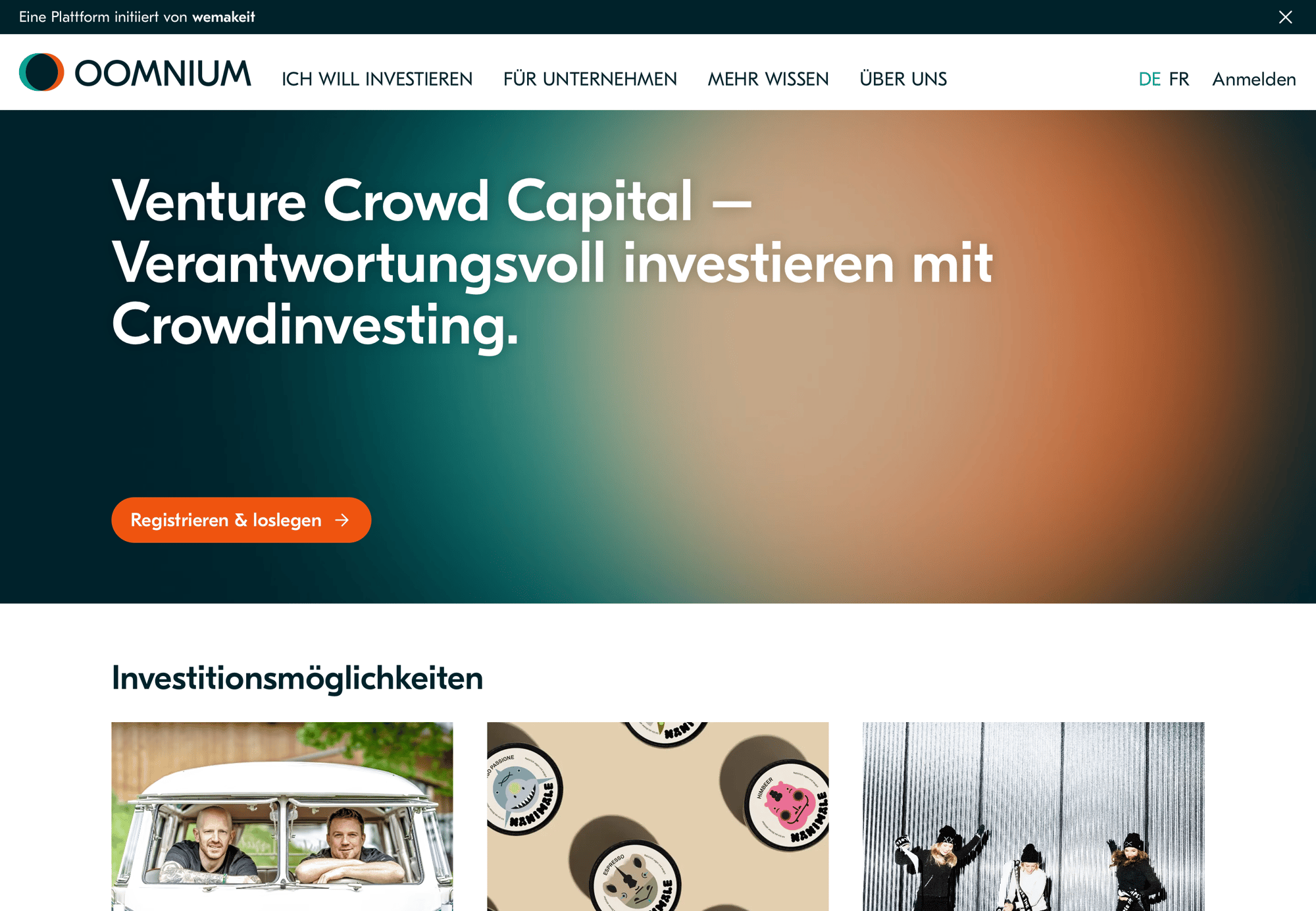 PXL Ident as a solution for identity verification
To comply with KYC guidelines, OOMNIUM relies on PXL Ident for identity verification. PXL Vision's web-based Auto-ID process allows reliable and fast verification of the identity of all investors. OOMNIUM uses the cost-efficient co-branded version of PXL Ident, which means that both the crowdfunding platform's logo and the logo of the renowned Swiss market leader for identity verification are visible in the verification process.
Since the integration of PXL Ident, over 3,000 verifications have already been successfully completed within the first 3 months, with only a small percentage of potential investors abandoning the onboarding process.
The identity verification process, including the comprehensive KYC check* takes just two to three minutes. This fast and smooth experience is critical to avoid alienating investors and to make the process as user-friendly as possible.
Even with increased workloads, such as the launch of new investment campaigns, PXL Vision's solution easily handles the increased demands. The scalability of this solution ensures that OOMNIUM can provide reliable identity verification even during peak periods.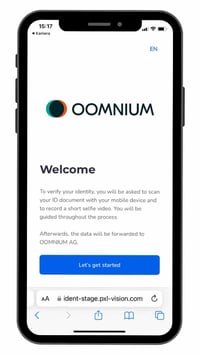 Why PXL Vision?
PXL Vision was able to convince OOMNIUM above all with its web-based verification process. For the crowdinvesting platform, it is a decisive advantage if the verification is carried out directly in the browser without having to download an additional app as with other providers. This was especially crucial since an Ethereum wallet app already has to be downloaded to purchase the digital shares.
"PXL Vision's solution simply offers an extremely fast and very smooth verification process that integrates well," emphasizes Marc Rinderknecht, Co-Managing Director and Product Owner of OOMNIUM. He also appreciates the conscientious collaboration with PXL Vision. Suggestions and requests are taken seriously and implemented in pending product updates in order to constantly optimize the process.
Cooperation at eye level
OOMNIUM looks forward to the challenges ahead and enjoys the certainty of having a reliable partner at its side. Based on the findings of the first three months, measures are now being taken together with PXL Vision to increase conversion rates. The goal is clear: the number of manual checks is to be reduced by half. The integration of PXL Vision's web-based NFC check, on which the company is currently working intensively, could play a decisive role here.
*: Address matching and matching with PEP and sanctions lists is carried out via another provider.