EY Entrepreneur Of The Year™ 2020: Switzerland's best entrepreneurs honored
PXL Vision's CEO & CBO, respectively, Michael Born and Karim Nemr are the winners of the 2020 EY Switzerland Entrepreneur Of The Year award. Mr. Born and Mr. Nemr are the co-founders of PXL Vision AG, Zurich.
The duo were the winners of the "Emerging Entrepreneurs" category because they have developed an absolutely convincing future technology. A video of Michael and Karim's workday was almost certainly one of the deciding factors for the jury, as it highlighted a reasonable work-life balance; one that is rarely displayed in the modern world.
PXL Vision is building a technology platform for secure identity verification and trusted digital identities. PXL prides itself on offering a flexible product that is configurable to scale with their customer's growth.
Within just 3 years since foundation, PXL has created a strong footprint in the identity verification industry and won significant customers, including Sunrise, Swisscom, UPC, Salt, ZKB and SwissSign with the SwissID. The company's headcount grew to more than 50, and we just raised a seed round of CHF 4.6 to finance our international expansion.
The award ceremony took place in Zurich's SRF studios as part of a hybrid live gala attended by over 1000 spectators from over 20 countries.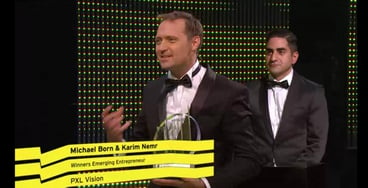 EY's Entrepreneur Of The Year™ award honours outstanding and deserving business personalities in Switzerland. A total of 60 entrepreneurs from all over Switzerland were nominated for the election; of the 15 finalists selected from these, the jury chose five award winners, one of which was PXL Vision.
Read the full coverage on EY's website here (German language only)